Meet Cohen Children's Child Life Specialist Sammy Sherman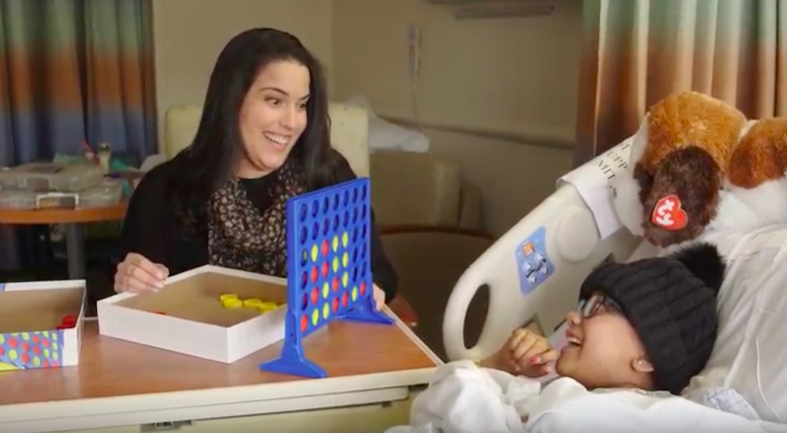 Have you ever tried Urinal Bowling?
This inventive game is just one of the many creative activities Child Life Specialist Sammy Sherman has come up with to make her patients' experiences in the Hematology and Oncology unit at Cohen Children's Medical Center in Long Island more enjoyable. The kids use a towel balled up with rubber bands to bowl over (empty!) portable urinal containers.
Sammy works closely with patients who are receiving treatment for blood diseases and cancer. "I became a child life specialist to help children and families cope with the healthcare experience," she says. "My goal is to make the potentially overwhelming more manageable." Dealing with extraordinarily difficult illnesses can certainly be overwhelming, but Sammy lightens the load considerably by creating an enjoyable experience for every patient she works with.
Sammy has an infectious, positive spirit and loves to have fun. She finds out what interests each child has—whether it's a love of singing, an obsession with a particular movie, or talent for robotics—and incorporates those interests into their care.
One very special project Sammy has worked on is creating PACT Connection, a newsletter "for kids, by the kids." A recent edition featured holiday artwork from the patients, an interview with an art therapist, two essays from patients about things that make the hospital experience easier, and a joke section, which included this giggler:
Q: Why was the baby ghost sad?
A: He got a boo boo!
This newsletter was particularly meaningful for the hospital's local champion, Olivia Macchio. Olivia's mom says that one day, "Olivia was feeling sad and having one of those 'why me' moments." But Sammy knew just what to do. She pulled out the newsletter and showed Olivia another patient's story.
This patient had felt the exact same way Olivia was feeling, and knowing that she was not alone helped Olivia feel much better. "I was very impressed by Sammy's knowledge of what resources to use to connect to Olivia's feelings and create a positive outcome," her mom says.
Sammy is wholeheartedly dedicated to helping patients develop positive experiences and outcomes during the treatment process. "I empower kids and families to take control of their illness and treatment," Sammy says. "I am so lucky to be a part of these resilient families' journeys!"
As a Child Life Specialist, Sammy is with patients every step of the way—from helping them adjust to hospital routines and preparing them for procedures, to teaching them coping skills and brightening their days with silly jokes and pop-culture references.
Sammy even sends patients off when they are finished with treatment and ready to go home! For each patient's last treatment, she performs a bell-ringing ceremony to celebrate their journey and showcase how special they are.
Sammy is from Dallas, Texas, and she still roots for her hometown team (Cowboys forever!). When she's not cheering up patients at the hospital, you can find her reading, hiking, or practicing photography.
Child Life Specialists help normalize the hospital experience and bring joy and comfort to hospitalized kids and their families. Many of the funds raised by CMN Hospitals are used to fund Child Life programs and help make up the gap between what government and insurance pay for and the actual cost of caring for kids in our member hospitals.