Costco to the Rescue!
It's that time of year when the Costco employees and members show they can save lives too!
Costco employees and members are both able to share their love for children by supporting CMN Hospitals at the register!
Costco will sell Miracle Balloons at their registers for the month of May to raise vital funds for our children's hospital, Cohen Children's Medical Center. Since 1988, Costco Wholesale has raised more than $285.2 million for Children's Miracle Network Hospitals.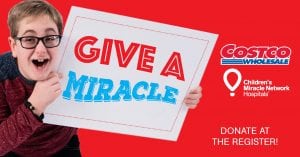 Funds raised at Costco help kids like Teddy. Here is his story:
Some might consider Teddy an old soul. He's certainly experienced a lot in his young life, having already endured more than 35 surgeries since birth due to his condition, Hydrocephalus. Full of life experience, Teddy's appreciation for each day is unmatched by most kids his age.
Teddy wants to help other children and believes having hydrocephalus is life's way of allowing him to do so. It's a burden few could "bear," but Teddy takes it in stride, smiling his way through the ups and downs of his treatment.
 Due to the uncommon nature of Teddy's disorder, research funded in part by Children's Miracle Network Hospitals' donations have heavily impacted medical professionals' ability to care for him. Financial support also funds the child life program that helps Teddy cope with his condition and multiple hospitalizations.
Thank you Costco, your kind-hearted associates and members, because of you kids like Teddy have the chance for a brighter future.
Stop in at a location near you anytime in May and support kids treated at our hospital!